ExteriorBox presents:
Aim of the project
The aim of the project is to deliver a novel, heavily story driven, single player experience
set in a fictional reality more than a millennium in the future.
Outline of the plot
The remains of humankind is scattered around the galaxy, lead by few of the finest and
at the same time worst possible individuals imaginable. The protagonist is one of these
individuals. Elevated to the status of demigod, he wrecklessly pursues his agenda with
reasoning and sanity left behind.
Gameplay
The story is conveyed through the first person perspective and offers a multitude of
environments ranging from foreign planets, surface layers of gas giants and most notably
human made space colonies.
The core gameplays idea is to provide a two layer combat system: the soldier level and
the hero level(the player exists on the hero level). The soldiers are mostly concentrated
on their level, while the heroes aim is to defeat the other heroes to win the battle, the
soldiers can engage the heroes but that would require heavy machinery or substantial
outnumbering. The player has at his/her disposal a large variety of weapons and vehicles.
In addition to the core gameplay there are various other scenarios that have a very
different approach and may not contain any regular foes or combat at all.
Platform
The project is designed from ground up to utilize Cryengine3.
Origin
The idea is actually quite old: I came about it sometime in 2006-2007, though
technology was not mature enough to turn it into reality. Well it is not quite there today
either, but I believe that a lot of can be achieved with hard work and clever trickery. The
bounds are there to be pushed further.
Here is one of the first drafts from the very beginning, just as a proof of concept: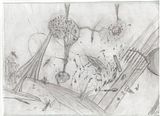 Current status
The project is in the phase of pre-production: the writing of the design document.
Can I help?
Yes, if you are interested in joining the cause then contact me through these boards or
via email:
atsest@gmail.com
Currently the biggest need is for a writer who would help to put the story on paper and
concept artists to properly visualize the ideas.
Additional note
I know that there are a mountain of problems to be climbed(coding, content creation you
name it) and the idea is not to achieve all of it in one go, but rather take it step by step:
proper design document->core gameplay mechanics and some assets/art-> (trailer->)
demo/playable build that incorporating one of the environments, then expand on that...
/Ats